You'll find an English version of this post below the Swedish one
Påminnelse: Vi bor ju på hotell, hostel eller hemma hos folk. Inga tält på Cykelsällskapets resor. I Gdansk hade vi bokat Hotell Mercure. Det var en hög byggnad som här får illustreras med en bild från grodperspektiv (undrar om det ordet går att direktöversätta till engelska?) där Jonas bystar upp sig inför kvällsvarden.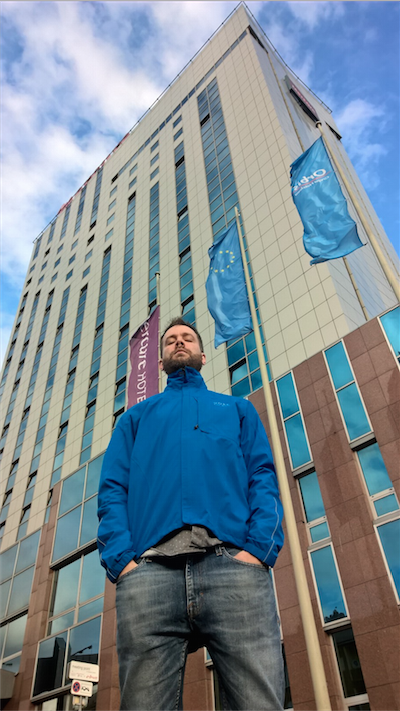 I jakt på piroger, vildsvin och mjöd gick vi förbi en intetsägande byggnad packad med folk. En restaurang inredd som ett äldre slott, vurmande för det nationalromantiska 30-talet, kryddad med ett helt koppel av kypare men ändå med humana priser. Vi gick in. Mjöden, pirogerna och vildsvinen lyste dock med sin frånvaro. Det gick bra ändå. Jonas vita borsjtj (soppa) fick full pott (5/5) och omdömet "överraskande god!" Gammelgdansken a.k.a. pepparvodkan gav mig hicka och Jonas muttrade "bara peppar, ingen vodkasmak". En tvåa i betyg således. Köttklumpen till huvudrätt mättade, men gav oss inga nya preferenser. En trea. Efterrätten "Tort Gdansk" avslutade middagen och hade inte behövts, men "when in Gdansk…". En fyra.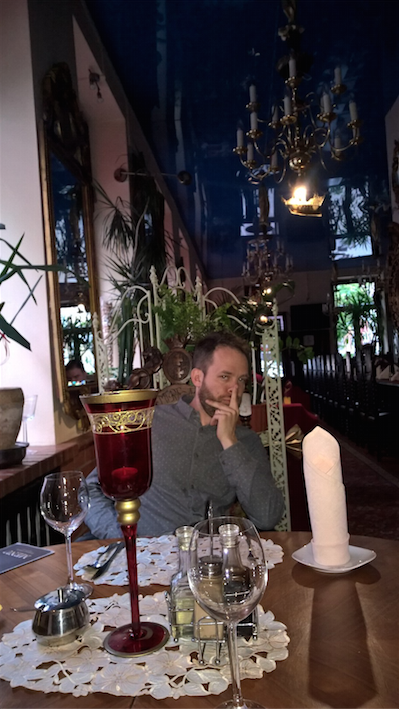 En göteborgare som flyttat till Gdansk för ett år sen försökte hjälpa oss med beställningen, men utan lycka. Man har ju varit med förr. Däremot tipsade han om ett ölhak med massa lokala microöl. Vi gick dit! Smoltski (mitt [Johans] untappd-alter ego) var uppspelt. Så uppspelt att jag väl framme snabbt beställde en Cydr för den ölen lät cool. Jepp, det var cider. Efter ett nytt försök och en svart ipa (hopus pokus) var det dags att vandra hem. Torsdagen bjuder nämligen på 10 mil cykling mot Braniweo längs kusten, eftersom båten "genvägsbåten" inte gick som det stod när vi kollade innan. Vi siktar på att luncha i Elblag för att sedan ta in på vårt spa-hotell runt 18-tiden. Massage är beställt.
Dagens ritt på järnhästarna går mellan Gdansk och Braniweo. Lite oklart hur just nu men lunch i Elblag låter kanske gott?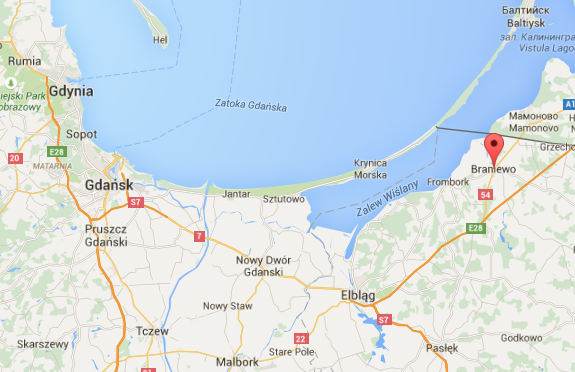 And here comes the same story in English
Reminder: We stay in hotels, hostels or in friends' homes during our cycling trips. No tents allowed on Cykelsällskapet's trips. In Gdansk we had booked a room at Hotel Mercure . It was a tall building which we choose to illustrate with a photo taken in frog perspective (yes, it is possible to direct translate the Swedish word "grodperspektiv") where Jonas is muscling up before supper.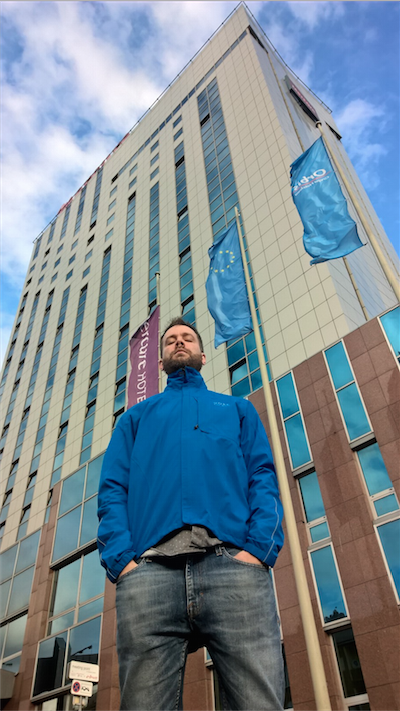 In search of pierogi, wild boar steak and mead we passed a bland building packed with people. It was a restaurant decorated like an old castle, which obviously cared for and protected the national romantic 30th century spirit, filled with waiters but still with reasonable prices. We went in. Mead, pierogi and wild pigs were no where to be seen. It went well anyway. Jonas' white borscht (soup) got full ratings ( 5/5) and the review "surprisingly good!" The pepper vodka shot gave me the hiccups and Jonas muttered, "just pepper, no vodka taste" . Rating: 2/5. The main course: a lump of meat, gave us no new preferences. Rating 3/5. The beer "Tort Gdansk" was the grand finale of the and had not been necessary, but "when in Gdansk…". Rating: 4/5.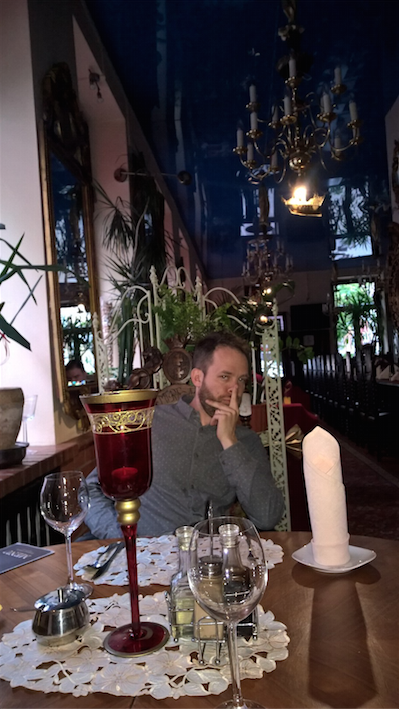 A Gothenburger (man from Gothenburg) who had moved to Gdansk a year ago tried to help us with the ordering, but without luck. However, he gave us the tip to visit a hangout with lots of local microbrew. We went there! Smoltski (my [Johan] Untappd-alter ego) was excited. So excited that I quickly ordered a Cydr as soon as we got to the bar – that beer sounded cool. Yep, it was a cider. After another attempt and a black IPA (hopus pocus), it was time to go home. This is because Thursday has 100 kilometers of cycling in it's hands. We will ride against Braniweo along the coast, because the boat that we called "the shortcut boat" was not going anymore. We aim to have lunch in Elblag then check in to our spa hotel around 18 o'clock . Massage has been pre-ordered.
Today's ride on our iron horses goes between Gdańsk and Braniweo . A bit unclear exactly how at the moment, but lunch in Elblag sounds good.